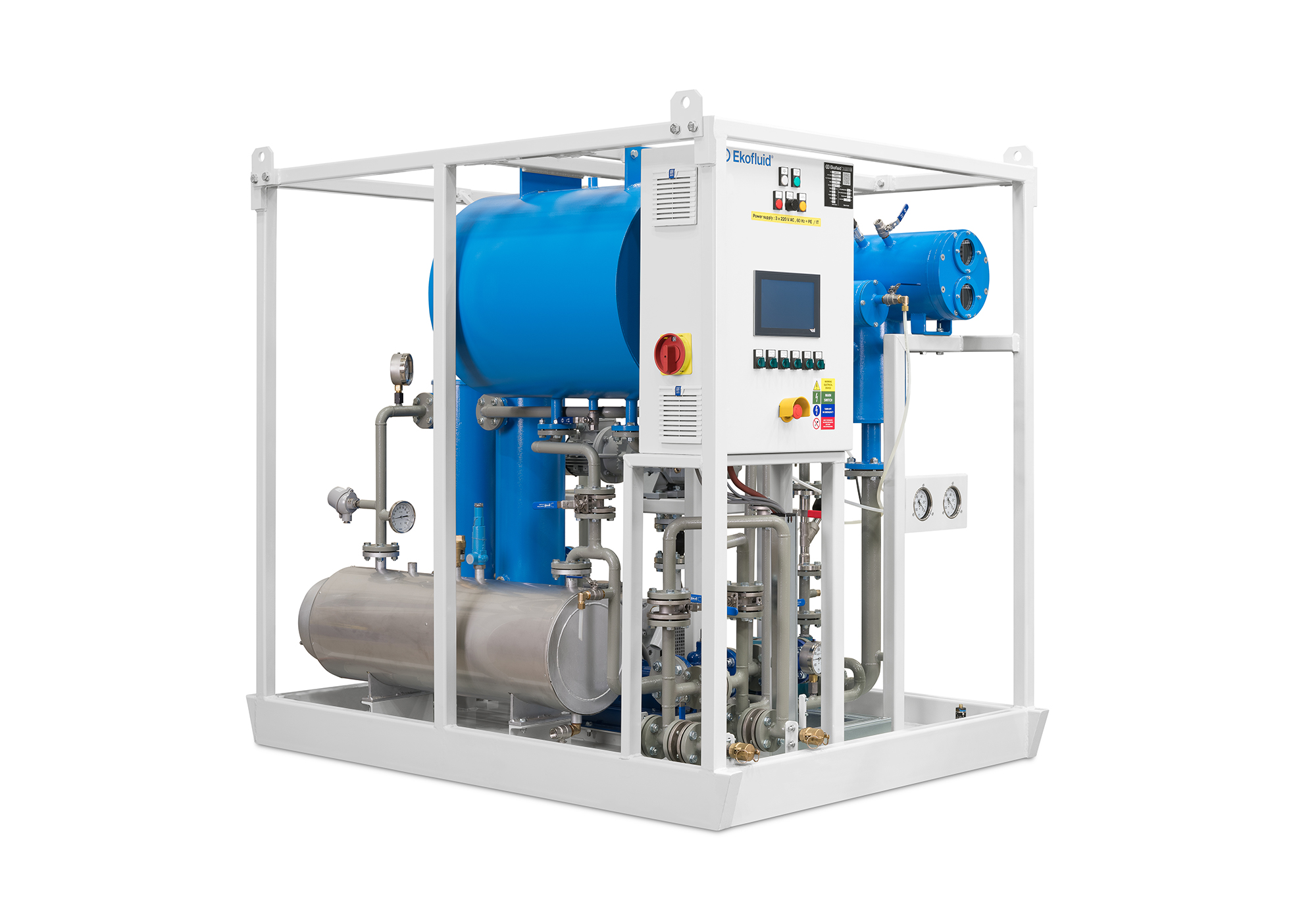 CABOIL
Cable oil treatment plant
Cable oil treatment plant CABOIL has been specifically designed to treat cable insulating oil. Its main purpose is to remove moisture, gasses and solid particles from cable oils as well as natural and synthetic esters. The plant has been specifically designed to work with oil drums and to handle smaller quantities of oil and its output head has been designed to work with pressure containers.
Unique degassing and moisture removal vacuum technology
Automated operation on online and offline transformers
Most efficient oil processing in its class
Works on all types of transformer oils
---
CABOIL cable oil treatment plant

The necessity for transformer oil dehydration and degassing is known for a long time. Transformer oil is used in power equipment where it provides cooling and insulation protection. Over time aggregated moisture, gasses and solid particles can seriously affect these properties. To remove moisture, gasses, and solid particles oil treatment equipment needs to be used.

Description of oil treatment equipment

Oil is heated by electrical heaters with surface efficiency below 1.1 W/cm, with indirect heating to prevent local overheating. Oil at the outlet is filtered by a fine, up to, 0.5-micron filter to filter out solid particles before returning the oil back to the transformer. Equipment is fully automatic, optionally controlled by PLC logic and interfaced with a SCADA system. Numerous safety features are introduced throughout the plant to ensure the safety of the equipment as well as the operating personal. Aeration valves, overheating protection, and automatic level switches guarantee the safety of the equipment as well as its ability to identify a possible risk and to power down to prevent any accidents.

All oil treatment plants optionally possess a positive displacement rotary inlet pump. The outlet pump is a centrifugal closed coupled high suction pump. For dehydration and degassing the rotary vane, a vacuum pump or pumps with an optional vacuum booster roots pump are used. Vacuum chamber houses a variable amount of coalescer filters combined with highly efficient ring mesh to achieve most efficient treatment of oil. All oil treatment plants have automatic variable oil flow control to maximize user comfort during operation. Vacuum breaking valves before and after the vacuum chamber ensure the vacuum side and the pressure side of the oil treatment plant are completely separated.

Electrical heaters with surface efficiency below 1.1 W/cm2, with indirect heating to prevent local overheating
Fully automatic operation of the FILOIL units optionally controlled by PLC and operated via a SCADA system on the electrical cabinet.
High vacuum double or single stage coalesce and ring mesh dehydration and degasification section with stadium design
Double or single stage vacuum system to ensure high vacuum in the vacuum chamber.
Filter rated up to 0.5 microns prevents particles from entering back into the transformer.
Oil catch pan to prevent accidental spillage, with automatic shutdown control.
All electrical wiring across the FILOIL units conforms to the highest European standards and consists only of high-quality components to ensure the reliability of the unit.
Variable flow rate of oil is an integral part of the FILOIL plant design allowing the users full flexibility during oil treatment.
Optional digital oil flow meter directly integrated into SCADA
Optional touch panel for easy SCADA operation placed on the electrical cabinet.
Possibility of full manual control
Integrated anti clog filter system
Bypass for the possibility to only use heating or filtering capabilities of the plant.
Highly effective foam sensor to prevent extensive foaming in the vacuum chamber
Unique vacuum control to optimize the oil treatment process
Possibility of online moisture measurement sensors on inlet and outlet integrated into SCADA
Possibility to remotely access to the unit via integrated GSM modem
Commissioning and FAT on location
SCADA system localized to most popular languages
Full set of documentation in electronic form available for download

If you are interested to download the technical datasheet for this product, please contact our office directly.

Should you have any more technical questions about our equipment do not hesitate to contact us.